Get to know!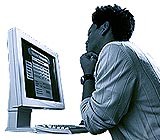 Nowadays it is difficult to find a company that would not be of the website electronic office online store or at least representative page. Modern business is impossible without the Internet.
According to statistics 79% of potential customers are searching for information about the company or are interested in the services of Internet search and engines 17% asked for advice from friends but only 3% trust advertisements.
It is obvious that the website is no longer just a formality but a full-fledged assistant for business giving you information about the wide range of potential customers. Here everything has a meaning: design information richness dynamism.
Until a few years ago to add information to a website you have to work hard and spend a lot of your time. Not to mention the fact that this required expertise. Till now so many companies used up of a significant amount of staff training computer science or invite experts to work with the websites. But now that's no problems to manage your website content! The work with your websites becomes solve easier and it does not require a lot of administrative burden you need previous.
With Smart Mess remote administration technology you can modify and manage your website content by yourself according to your taste and needs. You need no longer to invite specialists. You no need to learn a long course of study. You can add news photos or any information with minimal effort.
Most importantly you can manage your website from any computer. Wherever you were not: in a cafe or at a party outside the city or on vacation you can edit the pages add news remove outdated information online.
To learn how to work with Smart Mess you need no money spending in addition or buy on manual. You need not to attend special courses devoted to the study of the product. Unlike other media content management Smart Mess Site Manager is the intuitive.
All the useful information that you may need to set out a few pages in the specification Smart Mess.
| | | |
| --- | --- | --- |
| Effects – image rotation | Effects – removing a portion of the image | Effects – image resize |